Technophone EXCELL PC105T – taking the mobile from the hand into the pocket (1986)
Technophone was a company set up in 1984 by Nils Martensson, a Swedish radio engineer who left Ericsson to set up on his own in 1978. Nils Martensson's dream was to transform the large, clunky"brick" into the world's first mobile phone to fit into the pocket. He secured a DTI R&D grant, brought as much computer technology into the mobile phone as the state of the art would allow (including soft keys) and the PC105T arrived on the market in 1986 with a price tag of £1990.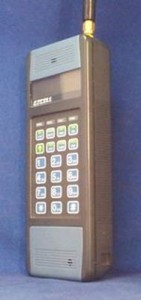 The Technophone PC105 turned the mobile from a hand portable to a pocket phone
The mobile phone actually did fit into a Marks & Spenser shirt top pocket, as the advertisements at the time illustrated below: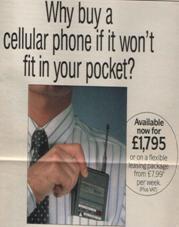 The first mobile phone to fit into a pocket…notwithstanding the antenna
The technical challenges were enormous and during the development phase Nils incentivise his development engineers to reduce the power drain with a cash bonus for every mille-amp of current reduction they managed to achieve. Bit by bit the technical issues were resolved and the phone sold through Excell Communications as the Excell M1 (an example is in the New Information Age Gallery of the Science Museum in London).and then the M2 that went on to sell in large numbers.
The Technophone PC105T was an extremely influential phone in the history of mobile radio for three reasons:
(i) Just as the Motorola brick had taken the mobile out of the car and into the hand so the Technophone PC105 directionally took the mobile phone out of the hand and into the pocket
(ii) It was the phone that inspired the DTI to see the future of the mobile phone as a mass consumer item and this shaped both GSM and led to the seminal DTI Phones on the Move that ushered in the conditions for the personal mobile phone. (See Inside a Mobile Revolution – The Political History of GSM Chapter 19)
(iii) By 1991 Technophone was Europe's second largest mobile phone manufacturer by handset volume after Nokia. In that year it was bought by Nokia… positioning Nokia as the Number 2 mobile supplier in the world after Motorola…and well positioned for greater things.
READ MORE OF THE HISTORY OF THE MOBILE PHONE – A TREASURE CHEST OF INFORMATION FOR THE VINTAGE MOBILE COLLECTOR…click on the link…VINTAGE MOBILES