The history of 5G is being made…now. It is being born into a competitive world where mobile network operators, system vendors and regulators will shape what eventually emerges.  If goes well new 5G systems could begin to be rolled out around 2020 (nearly 30 years after the first GSM systems were rolled out). Setting such an early date will have a significant impact on the choice of technology as the selection will have to be made from what exists today in the research labs and looks attractive for mobile network operators to invest in starting in 2020.  It is all still to be played for. 
History so far in a nutshell
In 2012 the International Telecommunications Union launched an activity addressing an International Mobile System beyond 2020.
In 2012 the UK Government announced the setting up of a 5G Innovation Centre at the University of Surrey – the world's first research centre set up specifically for 5G mobile research.The centerpiece is a $60m TestBed to allow 5G ideas to be tested, standards to be verified and vendor inter-operability testing.
In 2013 the European Commission set aside up to $960 million in public funding to develop the next generation of ubiquitous 5G communication systems during its seven-year Horizon 2020 programme.
In 2014 there were announcements coming out of China, Korea and Japan in 2014 for investments into 5G in the $3-4 billion ballpark over the next 5 years.
In 2014 (Dec) the Next Generation Mobile Networks Alliance finalize an Executive Version of the NGMN 5G White Paper, the first articulation of what a significant number of leading mobile network operators want from 5G technology. This was a significant step as the mobile network operators are the customers for 5G networks.
March 2015 the NGNM White Paper on 5G was published with the vision: "5G is an end-to-end ecosystem to enable a fully mobile and connected society. It foresees 4G and its evolution as a component part of the 5G revolution.
September 2015 – The global (3G PP) standards RAN Workshop took the first step in narrowing down a long list of use cases to three that would provide the focus for standardisation including the all important enhanced Mobile Broadband (eMBB)
November 2015 –  The outcome of the world radio conference (WRC-15) in Geneva proved a disappointment for the mobile industry looking for a globally harmonised band at 28 GHz. The global consensus by 2015 has almost reached the stage where 5G had become synonymous with 10 Gb/s data speeds to a spot point using 28 GHz. This led to a perception that European Administrations had knocked their own continent out of the 5G race by precluding use of 28 GHz.
September 2016 – EU Commission publish their: 5G for Europe – An Action Plan
November 2016 – The Radio Spectrum Advisory Group publish an important Opinion  on spectrum related aspects for next-generation wireless systems (5G)
This identifies three specific 5G pioneer bands, each is optimal for an intended purpose:
700 MHz to drive big improved highly reliable national coverage but at modest data rates. It will support many new 5G applications needing pervasive reliable coverage everywhere and benefit everyone. Modernising transport and some healthcare applications are examples of new applications this band will enable.
3.4-3.8 GHz to drive big capacity and data speed improvements in mobile broadband with an expectation of urban-wide coverage. This band enables the 5G vision of a Gb/s society and smart cities (with data speeds in the 1-3 GHz range). The band also has advantages for indoor small cells as it offers a greater capacity than 2.4 GHz WiFi and better indoor wall penetration than 5 GHz WiFi.
25-27.5 GHz to drive big capacity and data speed improvements in urban and suburban traffic hot spots (with data speeds up to 10 Gb/s). Such hot spots include e.g. factories of the future (Industry 4.0), railway stations, sporting venues, pop concerts, shopping malls etc.
The choice of the "pioneer" spectrum bands shape the new  5G infrastructure as never before: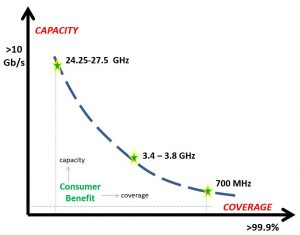 This changed the direction of travel of 5G in Europe from a single focus on mmWave bands to a three quite different options with 3.4-3.8 GHz taking centre stage as the 5G game changer.
March 2017 – The UK Government published "Next Generation Mobile Technologies: A 5G Strategy for the UK"
"Inside the 5G Revolution" is an important story where only the first few lines of the first Chapter can be written about today.