Casting the Nets – From GSM to Digital TV
By Prof Stephen Temple CBE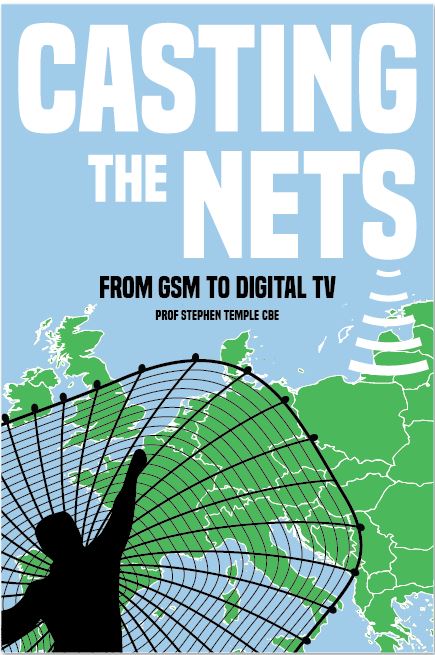 "Casting the Nets" provides insight into how Britain built a world-leading digital infrastructure driven by an unparalleled cooperation between private industry and European Governments. The transformation heralded a new era of technology and eonomic advancement that is still going on today. One of Europe's most influential radio engineers draws lessons from this experience that policy makers and business leaders can apply to today's digital infrastructure challenges.
The Creation of Standards for Global Mobile Communication (GSM, UMTS and LTE from 1982 to 2012)
By Friedhelm Hillebrand (Editor),
Karl Heinz Rosenbrock and Hans Hauser
The book describes the key steps – both technological as well as organizational/political that led to a single global mobile footprint we all enjoy today. The authors have each been instrumental in different phases of these efforts over the years.  A very reliable reference source.
Publisher: Hillebrand Consulting Engineers GmbH. The book can be down-loaded free by clicking here
30 YEARS OF MOBILE PHONES IN THE UK
by Nigel Linge and Andy Sutton
Very visually rich account of how the mobile phone has changed over the past 30 years. The story flows really well with a good interplay between the devices and the network operator parts of the story. The illustrations are excellent. The authors are widely recognised as leading UK vintage mobile historians.
Published by Amberley Price: £14.99.  Click here to buy
Cellular Dreams and Cordless Nightmares: Life at Bell Laboratories in interesting times.
by Richard Frenkiel
This is the autobiography of one of the great pioneers of cellular radio.  The autobiography is three parallel stories. It is a personal story of an illustrious career. It is a segment of an insider's story of a well known US corporations.But most of all it is a story around one of the great innovations of our industry – cellular radio. The paper presented to the FCC in 1971 by Joel Engel, Richard Frenkiel and Philip Porter called "High Capacity Mobile Telephone System Feasibility Studies and System Plan" is one of the seminal documents of cellular radio history. A must for the serious technology historian.
For a free down-load…click here