Most technology revolutions have been in the making for quite a number of years before they reach critical mass (the tipping point) and explode upon the world. So it was with GSM and even more so for PCN at 1800 MHz.
It took a long time for my colleagues in Europe to work out what the UK had done with Personal Communications Networks at 1800 MHz in 1989. They were looking for some hidden technological advance. They couldn't believe all the hype when all they could see was simply another GSM network but running at much higher frequency ranges. I attended several conference to point out that the real revolution was the "regulatory gunpowder" including releasing enough spectrum to open up an unimpeded road to a mass consumer market and the high degree of competition we had introduced that would drive that revolution forward with increasing speed and force.
In Germany Government officials had their own reason for wanting to believe that Personal Communications Networks was just another GSM network at 1800 MHz. The network operator had been separated off from the Ministry in the form of a commercial company called Telekom. This changed the Ministry thinking towards issues such as creating more competition in the German mobile radio market. If PCN was something distinct then, by German law, Telekom had to be given a share of it and that would diminish the scope for new competition. But Telekom were a powerful lobbying force. It was not completely in the bag.
Another visit had planned for a DTI Secretary of State to Germany. But this time it was Nicholas Ridley. A bit of helpful lobbying on using GSM at 1800 MHz seemed useful so we put a brief up on the PCN issue.
A curt note came back from his Private Secretary that he did not understand it. One of my colleagues went up to brief him and got as far as the revelation that it was possible with a mobile phone to make a call to the phone on his desk. Mr Ridley had got mobile phones somehow mixed up in his mind with walkie talkies. The state of Nicholas Ridley's technical education didn't look promising in terms of him persuading the German Minister of the merits of GSM for Personal Communications Networks.
When we got to Bonn we went straight to the Ambassadors residence for lunch. The lunch was with some very senior German industrialists and officials. There followed a fascinating conversation on the merits of a free market economy ably hosted by our Ambassador Christopher Mallaby. I had met the Ambassador when he was Head of Chancery in Moscow in 1976 and I was a young Home Office official over for a meeting with Russian officials on broadcasting satellites. I was surprised he still remembered me. (I was later to bump into him briefly at Buckingham Palace when I was collecting my CBE and he was to be knighted – which added to the pleasure of the occasion).
After the lunch Mr Ridley retired to his room. He came down five minutes before we were to leave for the Telecommunications Ministry. For a few moments we were alone. It was my last chance for a top up briefing. Within a minute we were in animated conversation. He was genuinely interested. The Ambassador joined us. He proposed we continue the conversation in the car.
The ride to the Ministry found me in the back of a Rolls Royce squeezed between the Ambassador and Mr Ridley trying to keep up with Mr Ridley's demands for ever more detailed explanation of how Personal Communications Networks worked.
When we arrived at the Ministry Mr Ridley was masterly. He explained to the Germans the key features of Personal Communications Networks and why the GSM technology was the best choice to go for. When he finished he turned to me with a huge grin and a look on his face that could only be read – how did I do? I gave him a discrete thumbs-up sign.
The Germans adopted our Personal Communications Network technology (but without doubt for their own reasons) and licensed a new operator.
Other parts of Europe moved to follow the Germans. The EU Commission then swung behind the duopoly model and it became EU policy that there should be a second GSM mobile radio operator in every EU country. In most European countries a third mobile operator followed shortly afterwards.
In general this has been the stable model market structure in Europe with the third player into the market struggling. The exception has been Orange in the UK where their commitment to network coverage and genius for building a great brand pulled them at one stage into market leadership in the UK.
The value of these new mobile radio entrants being channelled towards the GSM technology cannot be over stated. Whilst the incumbents still had their analogue networks generating revenue and growth the new entrants were entirely dependent on new GSM mobile handsets coming on stream quickly in order to drive any traffic through their expensive new networks.
Mannesmann in Germany probably did more than any other mobile operator in accelerating the development progress of GSM mobile phones. They had rolled out a £600m network across Germany but could not lay their hands on a single GSM mobile. The mobiles were tied up with teething problems and lack of type approval equipment. At the first of the GSM Congresses in Cannes George Schmitt from Mannesmann Mobilfunk vented his frustration on the supply industry by giving out badges implying that GSM should now stand for "God Send Mobiles".
The second GSM operators put huge pressures on the incumbent mobile operators to accelerate the roll out of their GSM networks. Coverage of GSM rolled out well beyond that provided by analogue networks. This was critical in allowing simple "GSM only" mobile phones onto the market and not requiring more complex and expensive dual standard mobile phones (arguably a mistake that occurred with the introduction of 3G networks in Europe).
Eventually the vital GSM mobile phones arrived on the market. The very first type approved GSM mobile in Europe came from a UK supplier called Orbitel – the joint venture between Racal and Plessey. The UK approval body (BABT) pulled out all the stops to make this happen. The mobile was the size of a ladies handbag and the battery lasted for 6 hours on standby and only 30 minutes talk time. I made a GSM call in 1991 on this GSM mobile but had to drive to Putney hill to find some GSM coverage. The phone was soon left behind in the mobile race in Europe but according to Orbitel (at the time) continued to sell in some parts of Africa where its huge size turned out to be a status symbol.
Figure 40 – Europe's first officially type approved GSM mobile, the Orbitel TPU 900
The investment levels injected into the venture were far too small to make a sustainable mobile business. The business was eventually sold to Ericsson.
The Motorola GSM version of their "brick" (their model 3200) was launched in 1992 with much more success. It was essential to Mannesmann's getting their GSM service off the ground. It is the mobile phone most people in the world associate with the launch of GSM.
This was the period when companies had to make strategic choices where to put their resources. Motorola was to make one of the great strategic errors in mobile phone history. The prevailing view in Motorola over the critical period was that digital mobiles would consume more power than analogue mobiles and as such they would be heavier, cost more and be largely limited to use in cars. In fact Motorola had even tried to persuade Mercury One-2-One to abandon digital mobile radio in favour of narrowband TACS.
Motorola hedged their bets on GSM but much more of their energy went into their new very small analogue mobile phone – their MicroTac, an amazing piece of analogue technology for its time. The company view was that the analogue technology would win the mobile handset race in the early 90's and placed their bets accordingly. Europe had never got its mobile radio act together in the past, so it was not an irrational decision – it just turned out to be the wrong one.
The Motorola MicroTac was launched in April 1989 into a world of rapidly expanding analogue mobile networks right across the world. A huge hidden development overhead with this strategy was all the re-development that was needed to make it work with the plethora of quite different analogue mobile radio technical standards and frequency channels.
Figure 41 – Motorola backs the wrong horse, as amazing as is MicroTac analogue mobile phone was
Nokia, on the other hand, effectively bet the company on GSM. Under the leadership of Jorma Ollila the company moved from a struggling highly diversified industrial conglomerate (1991 was one of its worst years financially) to a narrowly focused mobile radio company.
In 1991 they bought a small UK enterprise called Technophone for £34m. Technophone was started in the UK in1984 by Nils Martensson, an ex Ericsson engineer. As early as 1986, with the help of a DTI grant (mentioned in an earlier chapter), they were making the world's smallest analogue mobile phone under the brand name Excell. By 1991 Technophone was Europe's second largest mobile phone manufacturer by handset volume after Nokia. After the take-over the Technophone UK facility became one of Nokia's R&D centres and added significantly to their know-how for making mobile phones much smaller. These technology assets were then harassed to Nokia's better international distribution to position Nokia as the "Number 2" mobile phone supplier in the world after Motorola.
Nokia launched its first GSM mobile phone, the Nokia 1011, on 10.11.1992. The timing was perfect and the bet well placed. Like a surfer, with a mixture of skill (inspired intuitive user interface) and luck, they were lifted by the rising GSM tidal wave to global dominance. From 1991-2000 Nokia's number of employees doubled, net sales grew ten-fold and operating profit grew a hundred-fold.
A tale of two company strategies around the choice of technical standards. By 1997 GSM had up-ended the global mobile phone industrial landscape. Motorola lost its crown to Nokia and was never given the space to re-claim it.
Figure 42 – Nokia's first GSM mobile phone that fired the gun on the GSM technology mobile phone race
The Nokia 1011 fired the starting gun on a technological race every bit as ferocious as the one driving the PC forward. In the case of the mobile phone it was less about processing speed and memory but battery power consumption and the leaps in technology were no less spectacular. Every 18 months new smaller mobile phones were coming onto the GSM market with longer talk times and standby times for less battery size and rendering earlier mobile phones obsolete to the point of being unsellable. The mobile phone industry has been under this relentless pressure ever since – a principal characteristic of a consumer market. It would be wrong to convey that Motorola had lost the plot entirely. For example in 1993 they brought out their GSM version of micro tac in 1993 that was only slightly bigger than the analogue version. It contributed greatly to PCN breaking through. But they had lost the initiative and relative momentum to Nokia.
For the next 10 years GSM mobile phones were generally 18 months ahead of any competitor mobile technology in terms of performance and functions. It was a matter of commercial common sense that if development resources were scarce, then getting a new feature on a GSM phone opened up a much bigger market than getting the same feature on the phone using another mobile phone technology. The competitive dynamics of the GSM handset market was every bit as important in expanding the GSM universe as the GSM mobile networks themselves.
The large Japanese multinational companies were completely blind sided by the emergence of GSM. They were tracking US digital cellular radio standards closely and putting a lot of focus on a better version of telepoint called PHS (Personal Handyphone Service). They thought the technology would be a winner in emerging markets in Asia and had time on their side. In a blink of an eye GSM had swept into China and most of the rest of SE Asia. It was game over for the export prospects for PHS. Japanese industry found themselves having to grapple with a technology that was quite new to them and spent a decade running to catch up with companies like Nokia in a product area that should have been a competitive strength for their giant consumer electronics companies.
A myth has been fostered in some quarter that GSM was an exercise by European governments in protectionism for their local manufactures – with an eye to helping them to global dominance. The truth is somewhat different.
First the global dominance point. There was no ambition in the 1980's amongst government officials to export GSM outside of Europe. The challenge in getting the service rolled out across Europe was so monumental that it would have been an unwise distraction. The survival of GSM was far from assured. I had included a paragraph in the GSM MOU about working cooperatively to provide advice to operators in other parts of the world who were considering using GSM. This was largely based on the philosophical commitment of all telecommunications officials towards international cooperation.
What was more relevant in GSM being taken outside of Europe was the political battle of philosophies that took place in setting up the European Telecommunications Standards Institute (ETSI).
This philosophical battle took place at two levels. The first was whether the new European standards body for telecommunications was to be a closed club of European monopoly network operators (as CEPT had been) or fully open to the supply industry and for that matter any interested party.
The second battle was whether ETSI was a vital weapon in defending the Single Market as Fortress Europe or be open to the world. Traditional protectionism was pitched against globalisation and liberal free market ideals.
In setting up ETSI in 1987 I found myself pushing at an open door with colleagues from Germany, France and elsewhere to make ETSI open to all interested parties within Europe. But the battle between regionalism versus globalism was more hard fought. Membership of ETSI was limited to entities from CEPT countries and most companies and governments wanted it kept that way.
The period 1988-1992 was a transition period for Europe from the prime aim being a regional market to the prime aim being Europe as part of an open global markets. By 1988, in most northern European countries (including Germany), economic liberals were starting to gain the upper hand and France was wavering. By the time the Single Market had been completed by 1992 the world had left behind notions of closed regional blocks and marching towards full globalisation.
This shift of political strategic trade priorities was mirrored within ETSI. In 1988 I had an uphill struggle to move ETSI opinion to opening up our technical working groups, including GSM, to any companies outside of Europe. The concept of regional standardisation blocks was too prevalent and particularly Japanese technical standardisation bodies were not open to anyone outside. For a while I gave up.
Then I met Bob Horton, an official from Australia, at a meeting at the International Telecommunications Union in Switzerland. He expressed worries about the trend towards regional standards bodies and Australia being shut out of all of them.
It occurred to me that Australia had historically followed the trends of European technical standards in telecommunications – why would we want to push them into the arms of another regional block? I fought a very hard battle in the Technical Assembly to push through a proposal to open ETSI up to Associate Members. They would have the same rights as European members but their votes (if ever a vote took place) would be recorded separately to reflect the affected markets. Eventually, with support from some industry members, but not all, I got agreement to Associate members on a case by case basis and Australia would be invited to become ETSI's first associate member.
It was not that Australia had been particularly pushing for this. So I telephoned Bob Horton and a meeting in Melbourne was set up with the chairman of their national telecommunications standards committee. Between a hectic schedule of other meeting I flew out to Melbourne, had a 2 hour meeting with Australian Officials, wrapped up the agreement and flew straight back to London – hoping my body would not notice the time shift over such a short period.
Opening ETSI to members from outside Europe sent the right signals around the globe to any mobile operator (and their governments) that the GSM technology was to be shared and they would have a stake in the evolving specification of the ETSI GSM standard and the right to participate.
By 1992 the philosophical battle to open up GSM standards making to all interested parties had been largely won.
The politics of European protectionism for local suppliers was also transformed over the same period. In 1985 there can be found a very specific protectionist text in the tripartite digital cellular cooperation agreement between France, Germany and Italy. By 1992 the only favour local European industries got with GSM from governments was involvement in the preparatory phase, the opportunity of a huge new market and a time to market advantage that came with the sheer speed of the GSM initiative.
The two major European companies that were sharp enough and fast enough to recognise this were Nokia and Vodafone. There were also start-up enterprises with the same fine judgement – the most notable was Mobile Systems International founded by the engineer and entrepreneur Mo Ibraham. None were beneficiaries of special favours or protectionism from EU governments.
The involvement in the preparatory phase probably did favour the European big network companies due to the sheer complexity of the network side of GSM but that was the extent of it.
However in this new global world order "government barriers to trade" were swept out and "private barriers to trade" from Intellectual Property Rights were allowed to sweep in. In this new game Motorola, a US company, had a very good a fist of cards in this respect. They were better placed than many European manufacturers who had grown up in nationally protected markets. The horse-trading on GSM patents took place entirely between industrial companies with no government involvement. There is anecdotal evidence that essential patents were used by some of the big companies to limit market entry of new GSM mobile phone suppliers in the early years of GSM.
This should lay to rest the myth that GSM was an exercise in protectionism by European governments.
What this analysis of GSM also helps to clarify is the space where European Governments today can help local industries – namely to create new market opportunities around an emerging technology, with full involvement of local suppliers in the preparatory phase, and doing this at the fastest possible speed. Then it is down to the suppliers to make something of the opportunity and take their newly acquired expertise into the global market.
This is exactly what happened with the internationalisation of GSM. The real graft of taking GSM outside of Europe came not from government officials but the large European systems companies such as Ericsson, Alcatel, and Siemens etc. We were occasionally asked for political support. For example I received a government delegation from China in my DTI office to talk about GSM but the sponsors of the visit were Alcatel.
The first export of GSM outside of Europe came as a complete bombshell. One day I got a telephone call from Australia. It was Bob Horton. Why had the DTI blocked an export licence for the GSM to Australia? he demanded with obvious irritation. That was the first I knew that anyone was exporting GSM to Australia. I was mortified and promised to look into it for him.
It turned out that the UK had finished up as custodians of one of the GSM encryption algorithms. In those days this fell into the same category as war munitions in respect of export licences. I did not get a lot of insight from the officials in our export-licensing department. They simply had a book of instructions that said that GSM was limited to CEPT Europe. Australia was not in CEPT Europe, so no export licence.
It was really embarrassing that the first country to be refused an export licence was such a good friend as Australia. My next port of call was GCHQ to tidy-up this misunderstanding.
This bit of housekeeping cleared the way for GSM to move smoothly outside of Europe and it did so with ever gathering momentum.
Thailand much to my surprise not only went for a GSM but also did it at 1800 MHz, the first emerging country to do so. A few years later I hosted a reception for a visiting Thai delegation led by a Minister. They were much more on the ball on all aspects of mobile radio technology than many of our DTI and Oftel officials.
The last big influence I had over the internationalisation of GSM concerned international roaming. It took me all of 30 minutes to accomplish and was probably as significant to the success of GSM with the global travelling public as the previous 3 years I had put into the GSM technology and commercial strategy.
It had always been the DTI intention for the GSM MOU to be a purely commercial agreement between the mobile network companies. I viewed the government's role as largely accomplished. It was important to good industrial policy to know when governments should move out of the way and let the private sector take the lead. But Germany, France and Italy had pressurized us into signing the MOU and so in good faith I attended the first few meeting of the MOU signatories. The first meeting objective was to get Armin Silberhorn elected as the first MOU chairman. Beyond that I was there just to listen.
It was in this frame of mind that I listened to the first discussions on the principles for charging for international roaming ie people taking their GSM phones with them abroad. The Italian telephone company were taking the lead in the discussion and putting forward the model that was used in many countries for paging services. For paging service you paid a monthly subscription of say "x" to be paged over a single city. Then you paid "2x" if you also wanted to be paged in a second city. To be paged over the whole of a country would cost a great deal of money. There was a certain logic to this since the product a mobile or paging company was selling was "mobility".
The Italians proposed the same principle was used for GSM roaming. On top of this, of course, would be the mobile phone call changes themselves. Other mobile phone operators around the table were nodding vigorously.
My mind wondered over how this proposal might play out in the DTI. Robert Priddle would sign off my expenses so I would have to persuade him what level of GSM subscription I would be allowed to buy into. He would probably approve Belgium since I was forever going to Brussels. He would suck his teeth at the thought of Paris or Bonn and beyond that I did not stand a chance. I then scaled this up across all the organisations with people who travelled.
It was obvious that several things would happen if the paging tariff model was applied to GSM. There would not be a lot of GSM roaming – so what was all the point of aligning the technical standards. Second, since the competition authorities would not allow the mobile phone operators to discuss the actual prices to be charged – a very high subscription priced operator in say Germany could suppress roaming call revenues to other European operators from visiting Germans. Finally I thought that a mobile phone would likely prove of most value on unforeseen trips but they would be typically the countries that were not part of the subscription.
It was not really my role as a government official to comment since this was a purely commercial matter. But it just looked to be wrong.
During the coffee break I approached Armin Silberhorn with my misgivings. He said that he could see my concerns but what was the alternative? My proposal was that "the whole of Europe" should be the normal default roaming area. I asked if I intervene would he supported me? He agreed.
When the meeting recommenced I asked for the floor. My speech was very political. Officials and Ministers from all the CEPT countries had not just gone through hell to break down the technical barriers to roaming across Europe only to see our tariffing colleagues put tariff barriers back in their place. Only for the second time (the first being in Berlin) I thumped my fist on the table as I finished my intervention with the cry – "one subscription, the whole of Europe". Only I got a bit carried away with the rhetoric and this time had misjudged the force with which my fist hit the table. All the coffee cups around the room jumped up and fell back with a really dramatic clatter. This loud clatter was the unintended cue for Armin to come in with full fury demanding there was to be no backsliding on a European wide GSM roaming area. It won the day.
It was part theatre but mostly passion on the part of both of us to deliver the vision of what we believed Europe should be aspiring to. This became the basis of GSM roaming across Europe and then to most of the rest of the world.
This was not the last of the barriers that had to be knocked down to make it an everyday thing for people to carry their mobile phones when they went abroad. The airport authorities in several countries took the view that mobile phones were a security threat. My early experience of carrying my GSM phone was to have it taken away at both Munich and Schiphol airports, put in an envelope, handed to the cabin crew by security staff and given back to me in London – evidently deemed to be every bit as dangerous as a gun.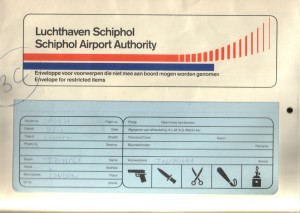 Figure 43 – The packet my GSM mobile phone was put into by airport security at Schiphol
It took another call to Armin Silberhorn to gently let Munich know that they were now part of the EU Single Market. The GSM tidal wave swept these restrictions away.
Taking Europe (and later the world) as a single roaming area was another of the driving force for GSM to be adopted around a world. It chimed well with a world that was already on a path towards globalisation. It has been a boon to business travellers and tourists alike and in a few instances saved lives.
One of the first instances of the safety benefit from GSM was reported in a newspapers a few years after GSM was launched. Some German skiers in the French Alps were caught in an avalanche. In earlier times they would have left their "national" mobile phones at home as of no use. GSM changed everyone's habits and made it a natural thing carry mobile phones everywhere. They were found by France Telecom engineers position fixing on their GSM phones.
In September 1999 The Sunday Times revealed that one of their reporters, Jon swain and his cameraman Chip Hires, had found themselves ambushed in the Far East by gunman and fled down a bank and into the undergrowth. Jon Swain called for help on his mobile phone.
Figure 44 – Sunday Times reporter's dramatic endorsement of the GSM roaming agreement
The amazing thing was – a GSM mobile phone network happened to be on hand to accept his call.
Another event that caught the headlines later was a boat that had lost power and its ship-shore radio and found itself drifting in stormy waters off the coast of Indonesia. A girl on board saved the situation with an SMS message back to her boy friend in the UK. Via a long chain, the local rescue services were alerted to rescue them.
At the other end of the scale from these dramatic headline stories have been millions of people getting themselves out of short term fixes in foreign parts by virtue of the very simple thing of getting out their GSM phones, no complexity, no hassle, not even having to think about it…just making the call. There is an even larger number of parents, spouses, friends etc having the peace of mind knowing that the person they care about has with them a GSM mobile phone when travelling around the world.
It took more than just alignment of technologies to achieve this but a new culture embedded from the very outset of GSM that nothing less than "the world" would be the service area for the international roaming customer – a revolution in the way people thought about mobile radio.